Get 11% Off + Free UK Delivery
Use Voucher Code: LOVEINK*
Lexmark 3 (18C1530E) Black, High Quality Remanufactured Ink Cartridge
Lexmark 3 (18C1530E) Black, High Quality Remanufactured Ink Cartridge
Page Yield:

195

Colour:

Black

Capacity:

Standard Yield
Regular Price: £19.85
Special Price £13.95
Buy 2 for

£10.95

each
Buy 3 for

£10.45

each
Buy 4 for

£9.95

each

FAST & FREE DELIVERY
on ALL orders



ECO FRIENDLY
Think green...
You may also be interested in the following product(s)
Lexmark 2 (18C0190) Colour, High Quality Remanufactured Ink Cartridge
Regular Price: £21.45
Special Price £14.95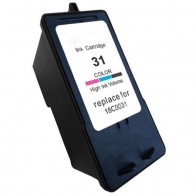 Lexmark 31 (18C0031E) Photo, High Quality Remanufactured Ink Cartridge
Regular Price: £15.05
Special Price £10.95
Additional Information
Specifications
SKU

SBLX3

Color

Black

Page Yield

195

Printer brand

Lexmark
Cost per page

7.2 cent

OEM Number

Lexmark 3 (18C1530E)

Product Type

Ink Cartridge

Shelf Life

3 Year
Why We Compete ?

InkjetsClub's Lexmark 3 (18C1530E) High Quality Remanufactured Ink Cartridge are great fit for your Lexmark printer. Always shop for the best value and great quality. Not all inks are created equal. Lexmark 3 (18C1530E) Ink Cartridge are designed to provide high-quality prints that are color accurate.

Why Our Ink Cartridges are the BEST ?

With our Lexmark 3 (18C1530E) Ink, get up to twice as many pages compared to refilled inK
Great service, afrordable ink
We value and support our customers
Manufacturerd with Enviornment Friendly Policie
Powered by You To
20 Reviews
S

Sarah-jane Knight

Verified Buyer

H Hannah Ashton Verified Buyer

Order/Delivery

Good products coming with a good price, I will be using clink inks again

A Anne Allen Verified Buyer

Price

fast service and good quality products

L Linda Schollar Verified Buyer

Great price. Fast delivery

Quality product and fast service.

K Kristin Maga Verified Buyer

As Advertised

I completed my order on line, but it was very friendly easy to do so.

I was surprised to obtain

fast shipping. good product.

T Tangieva Bovell Verified Buyer

Great Product

This is my first time to use InkjetsClub.com but it will not be my last--good prices and delivery was very timley

L Leigh Coats Verified Buyer

re-manufactured cartridge

The product is good The price is very good. The product is delivered promptly. What else could you ask for.

Super fast delivery

Very quick delivery, very good prices.

A Annabelle Maruca Verified Buyer

ink

Ease of ordering, great product selection, and delivery without any problem.

M Mary Colon Verified Buyer

easy, fast, and great price!

I have ordered ink for my Stylus and Lexmark Z series printers and both are performing absolutly fine. I couldn't be more satisfied with the quality and the price.

L Lynn Noonan Verified Buyer

Definitely Recommend

I am very satisfied with everything about InkjetsClub. The cost is reasonable and the product is great! It arrives very quickly for a small cost. I wouldn't get my ink cartridges any other way. Thanks for this service.

S Sarah Gaskin Verified Buyer

Quick Delivery

ink cartridges arrived in five days.

Returning Satisfied Customer

I liked that InkjetsClub make their own brand of ink cartridge for my older printer. It is NOT a reload like other companies (they leaked and/or didn't last long). I ordered on a Saturday evening, got an added discount for buying 3 cartridges, and then another discount because of a free shipping offer. What a deal. I received my order on Thursday, which isn't bad since it came from California to Pennsylvania by USPS. (I never wait till I'm desperate for ink to order, so the time in transit isn't a problem.) I immediately loaded the cartridge. It went in just like the name brand. The color is slightly off, but only slightly - very acceptable. I have printed out around 150 pages total (a mixture of color and black) and the cartridge still shows 2/3 full! The value is great. My cost for 3 cartridges for Lexmark X3430 was only $11.00 more than the price of one original cartridge from Lexmark or Office Depot!!!

Quick and easy

Excellent service. My address was incorrect so I notified customer service and they promptly sent me a second shipment in case the first didn't arrive.

C Chris Seber Verified Buyer

Great Support

great company, great service

Good price and delivery

fast shipping and the ink cartridges work great

Reasonable Price

Great service nice follow up, and good product

great deals

quick service, correct product.

The Ink cartridges from Inkjets Club

ink arrived fast and works great. Saved a bundle over the cartridge.